媽媽的心語... ....
2014-12-02
自小媽媽經常教導我和哥哥, 最重要做任何事要用心, 用我們最大的努力做到最好。
還教我們要幫助別人、要努力、學懂堅持、毅力及沒有事情是不勞而獲的。
我十分佩服媽媽堅強的信念和態度, 讓我明白做任何事要抱著這個信念而行。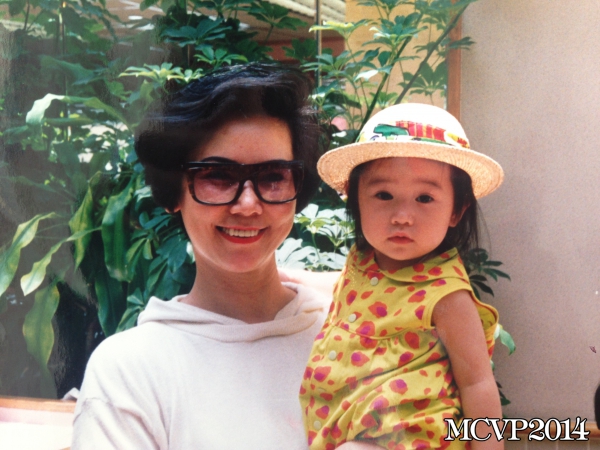 我會努力勇往直前!! :D
媽媽的滋潤補健湯水 ...
2014-12-01
近日的天氣真的很寒冷,上週六下了第一場雪。我生病了,媽媽特別緊張,因怕我沒精神去参與每天的排練活動。這兩個月裡,可愛的媽媽每天晨早起來,親手泡製每日不同款式的滋潤湯水, 給我補健身體。媽媽的愛心靚湯, 給我無限的愛護和支持。
媽媽我永遠愛你。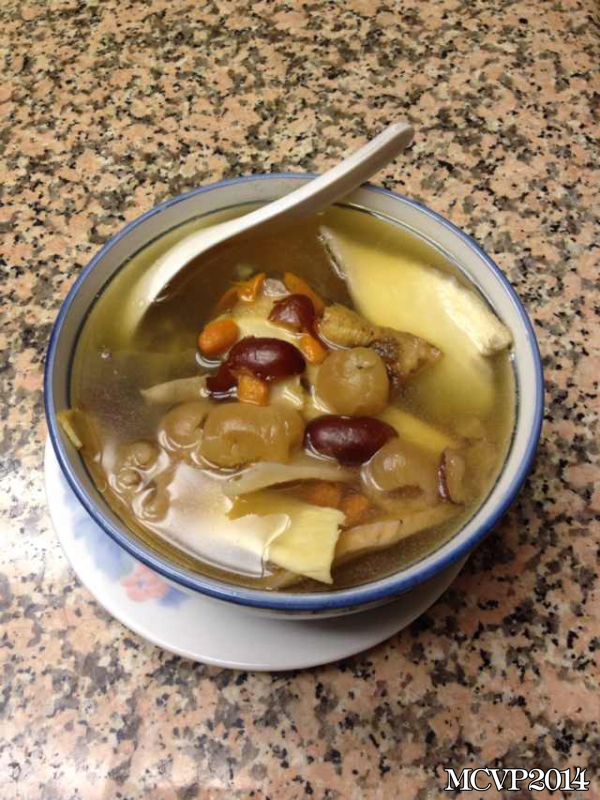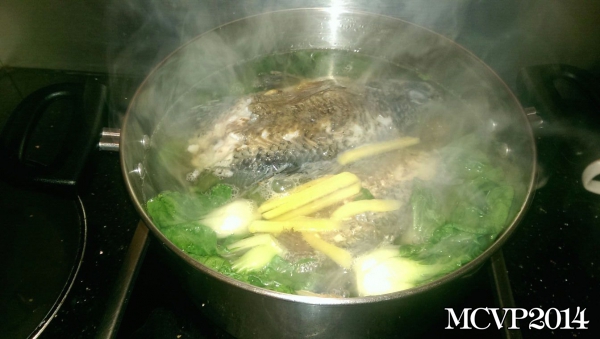 To: Daddy
2014-11-30
Happy Birthday to my dearest Daddy~ ! Thank you for always being by my side through thick and thin. Your wise advice has always been a beacon of light in the dark. May you have the most wonderful birthday with us <3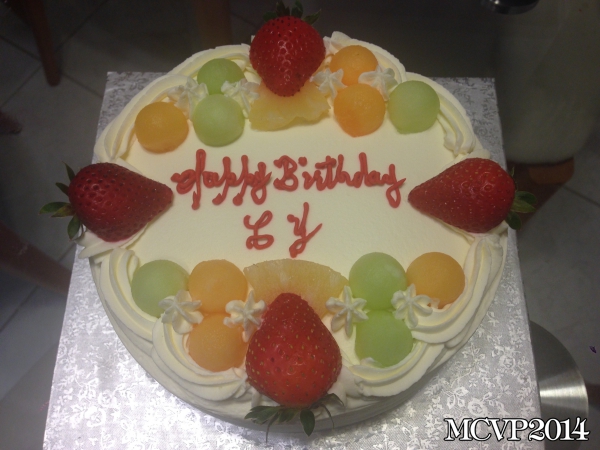 My Dad's favorite cake: cream cake with fresh fruits~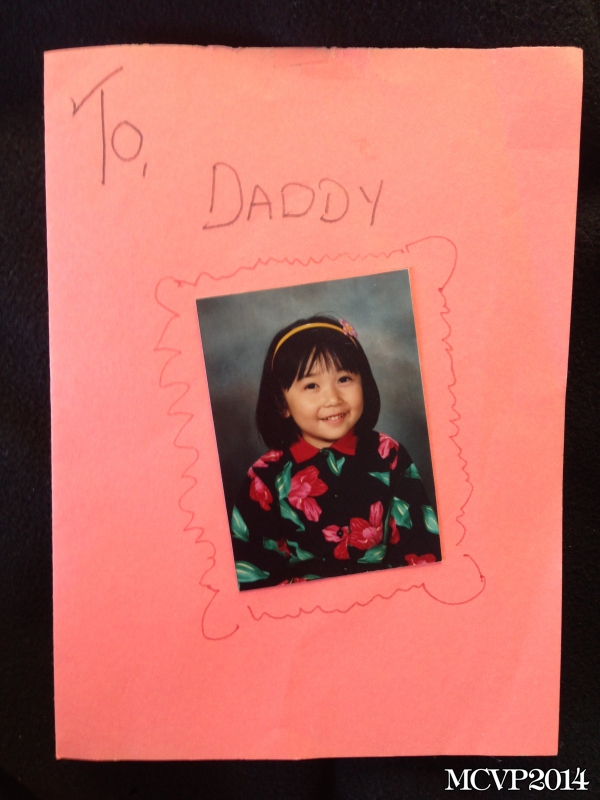 Found this card from ten years ago exactly~ 1994!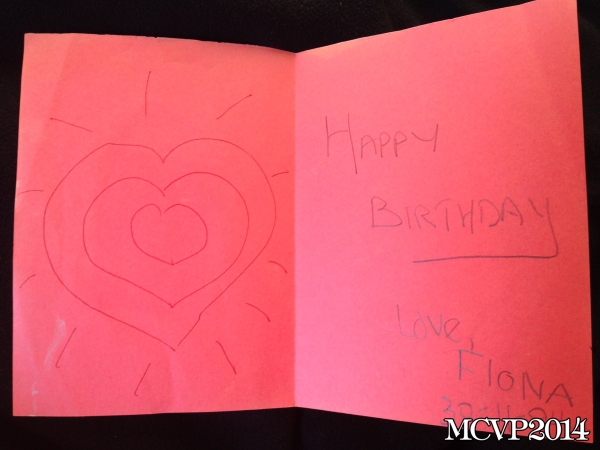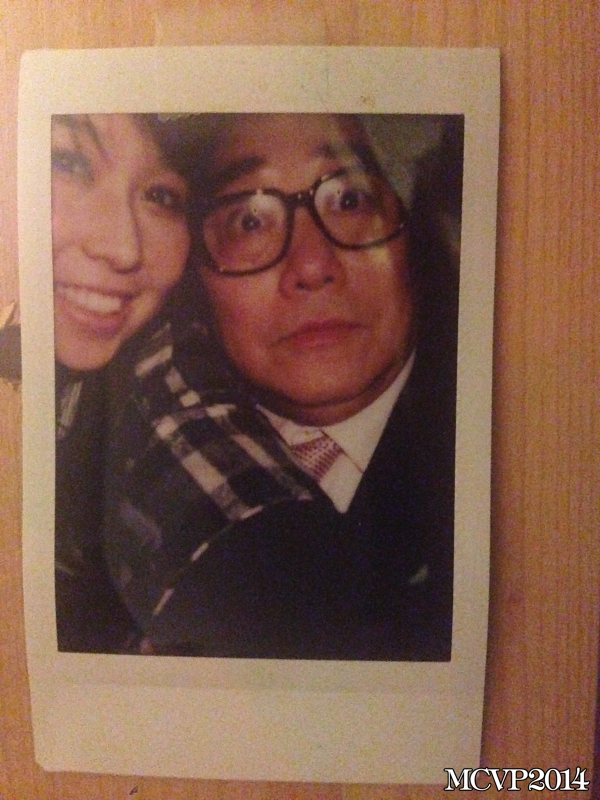 <3 Happy Birthday
Love,
Fiona
30-11-14
陪我長大的温哥華華裔小姐
2014-11-21
This year marks the 20th anniversary of the Miss Chinese Vancouver pageant, commemorating twenty years of timeless beauty, intelligence and kindness. Looking back on my own life, the Miss Chinese Vancouver pageant has played a significant part of my 24 years of childhood, adolescence and adulthood. Every November I would look forward to the reveal of the year's pageant contestants, every November I would be enchanted by the pageant's theme song that would play on television. Every December is a period of excitement in anticipation of the show's finale; I would eagerly cross of the days on my calendar leading up to the occasion. When the coveted day came, I would spend the whole day getting ready, keen on presenting my best like the contestants on stage. The show never disappointed me, every year was a treat to my senses. I loved it all. I loved the stage, I loved the clothes, I loved the routines. I loved the guest performers. I loved the tense ambience during award presentations. At the end of the night when the show came to an end and the winners were crowned, I was already looking forward to next year's show.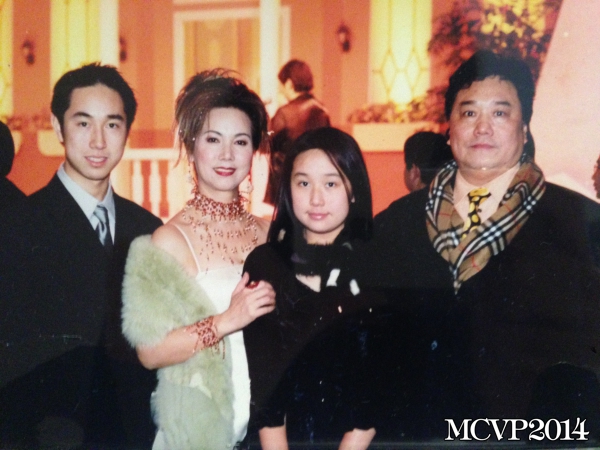 This is a picture of my family and I at the Miss Chinese Vancouver 2000, the year Bernice Liu won. Seeing her perform on stage with such vitality and confidence me inspired me to follow in her footsteps when I grew up. She is the one that started my longtime fandom of the Miss Chinese Vancouver pageant along with my dreams of participating in it.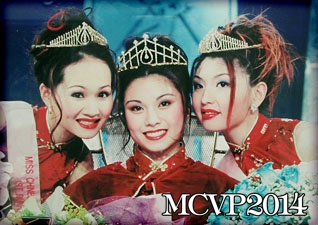 Besides being in the audience, I have also been part of the BC Cancer Society's volunteer team and a member of the pagean't backstage crew. For a few years I helped the BC Cancer Society raise funds for research by selling toy bears and bakery gift cards to the members of the audience. Funds raised go to support the Society's work in conquering cancer and improving the lives of cancer patients. Being able to contribute to this cause and interact with peers who share the same passion is always a meaningful and noteworthy experience!
In 2007, I had the opportunity to be part of the backstage crew at the pageant as a dresser! It was an extremely fantastic experience as I got a glimpse of how everything runs backstage and how hectic it really is as opposed to watching the event.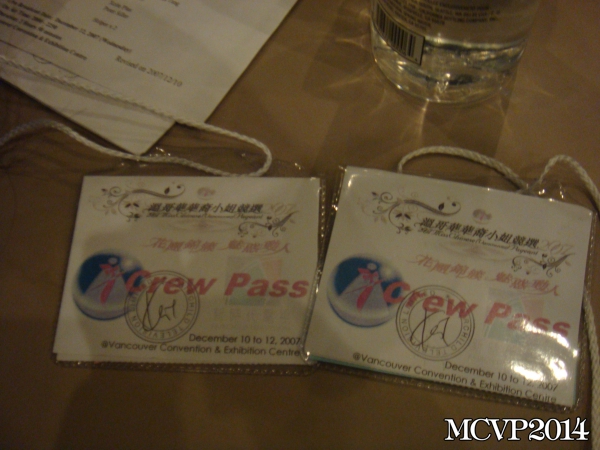 Crew passes for the 2007 Miss Chinese Vancouver Pageant!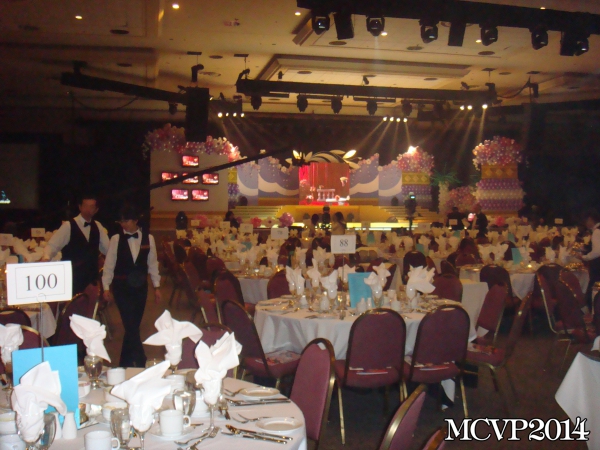 The stage and ballroom mere hours before the start of the gala.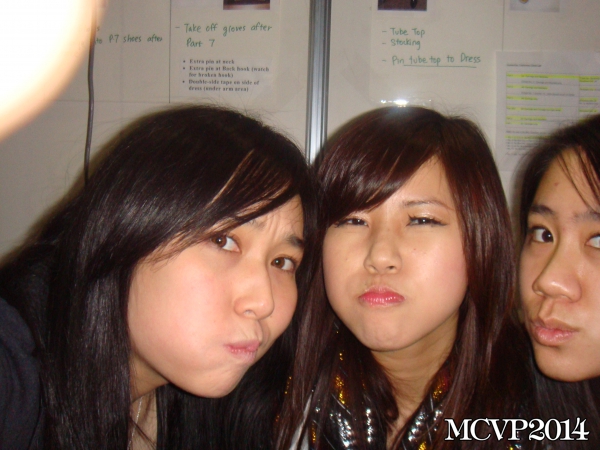 Picture of my fellow volunteers and I before our volunteer work begins!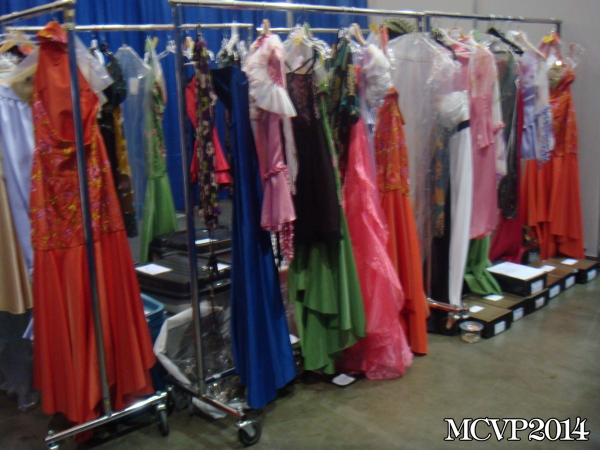 The beautiful dresses~ I was so awestruck when I first saw them.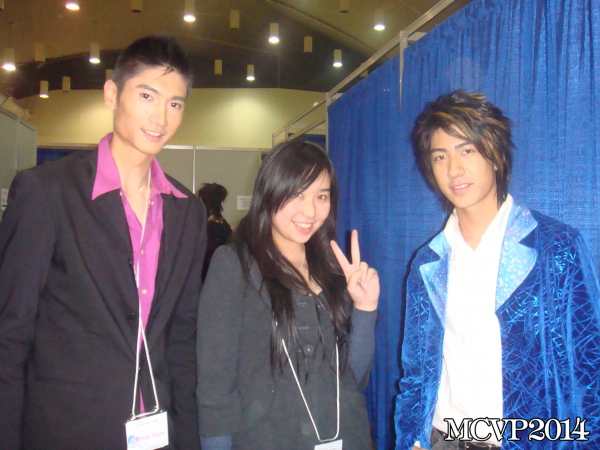 Picture of me with the performing Sunshine Boyz! Never thought I would be performing with Sunshine Boyz myself seven years down the road.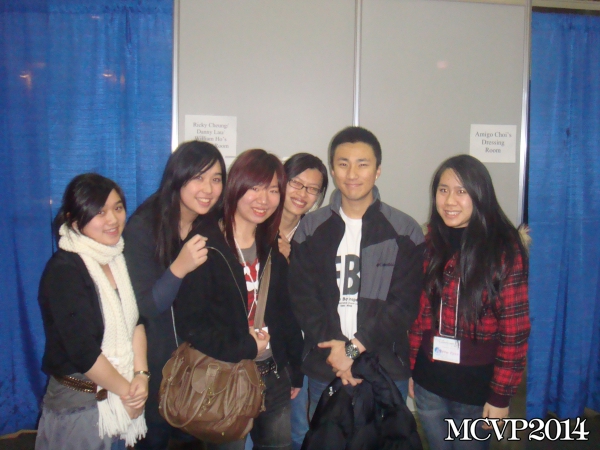 That year's guest Master of Ceremonies was Amigo Chui and being teenagers we were all clamouring to take a photo with him. Starstruck as we all were, he was kind enough to take a moment from practicing to entertain us with a photo.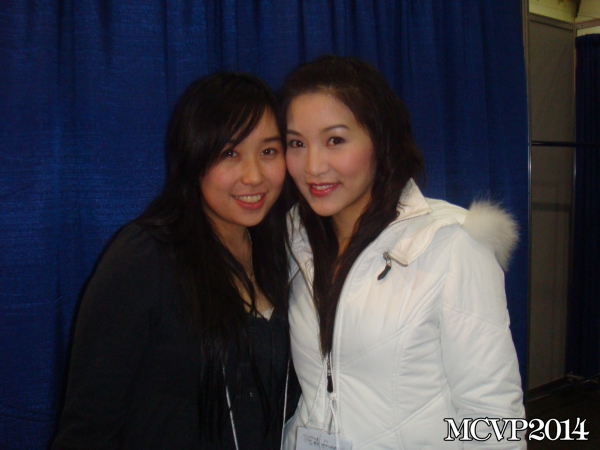 Picture with 2006's Miss Audience Popularity Amy!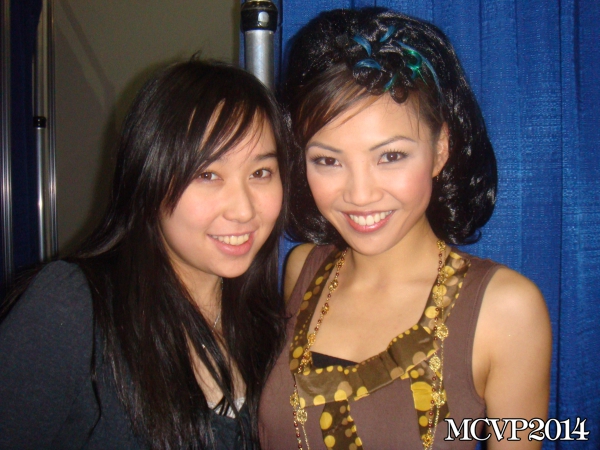 With Contestant #6 Janet~!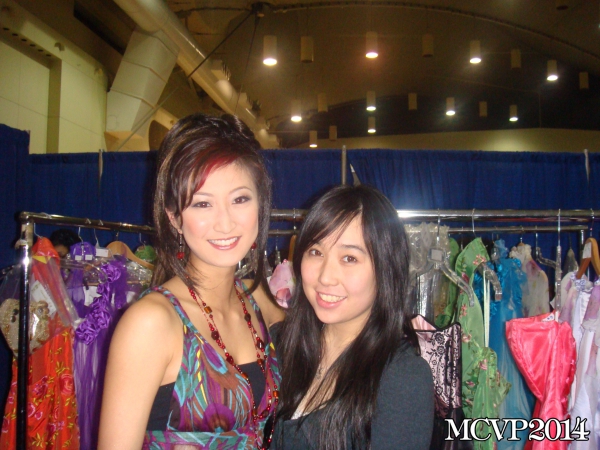 With Contestant#1 Queenie!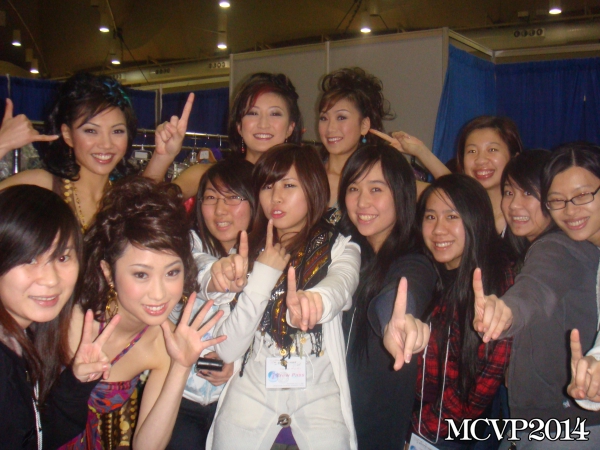 Final Hurrah before the show starts!
The experience was quite an eye opener; it was absolutely manic backstage as we rushed to dress and prepare each girl for the next routine in a matter of minutes. Time was of the essence and there was none to spare. With this experience under my belt, I definitely know what to expect on show day, only this time I'll be the one getting dressed haha! I'm really looking forward to meeting my helpers and working together as a team. It has been 2 months and I am still feeling wonderstruck about being part of this grand production after so many years of being a loyal fan and audience member.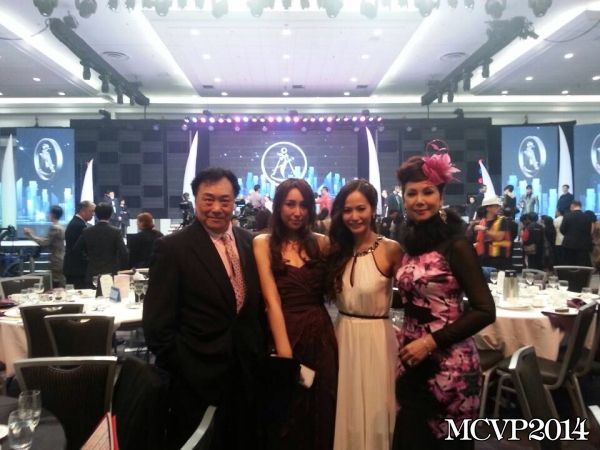 Only two weeks and half to go before show day! Are you all excited for this year's show? ;)
My first newspaper spread~
2014-11-16
今天起來幫媽媽買了報紙,發現今期的報紙有提及我們的記者招待會! I was estatic! Never have I been featured in a newspaper, let alone been on the front page!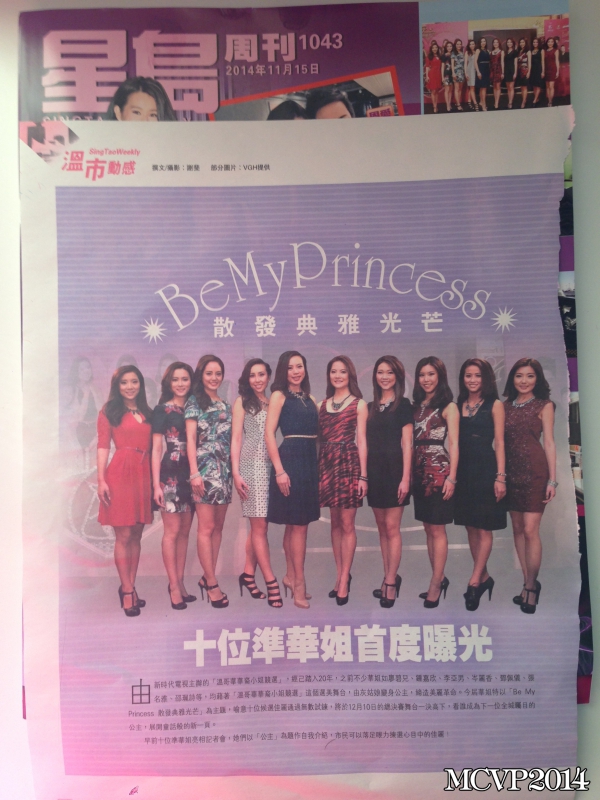 Seeing this cover makes me reminisce about the past two months. How time flies. It makes me think of all the hard work all of us put into making this whole event happen. 不但是我們十個女生,總有幕後的工作人員,導師等等. 我們都一起努力做到最好,希望能夠完成一個最佳的show給大家! When people watch the pageant, most of the credit is given to the ten stars on stage. In reality, the backstage crew is just as important as the girls! Without our image consultant Betty, the make up artists and the D'light hairstyling team, we would not be as polished as we appear today. Without the directors and production crew, the press conference and promos would not be possible.
所以,不是只有我們十位佳麗的努力, 其實無論台前或者幕後都付出100%!
Lest we forget
2014-11-12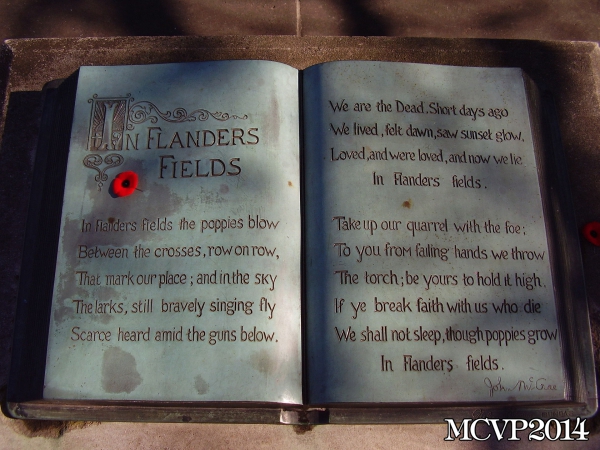 Rememberance Day is a time for remembering all those who have fought and sacrificed for us, our freedom and our country. It is a time for honoring our veterans by giving them tribute and keeping their memories alive in our hearts.
Every Rememberance Day is a reminder to me of how selfless the human spirit can be, to be able to lay down their lives in the name and service of peace, justice and freedom. It reminds me that I too, am not a single entity free of responsibility from the world, but am part of an interconnected community obligated to provide when exigencies of service demanded it.
We shall not forget.
感動的蛋糕
2014-10-27
今晚training完了我回家時在廚房見到了一個很大的驚喜. 你看看是什麼?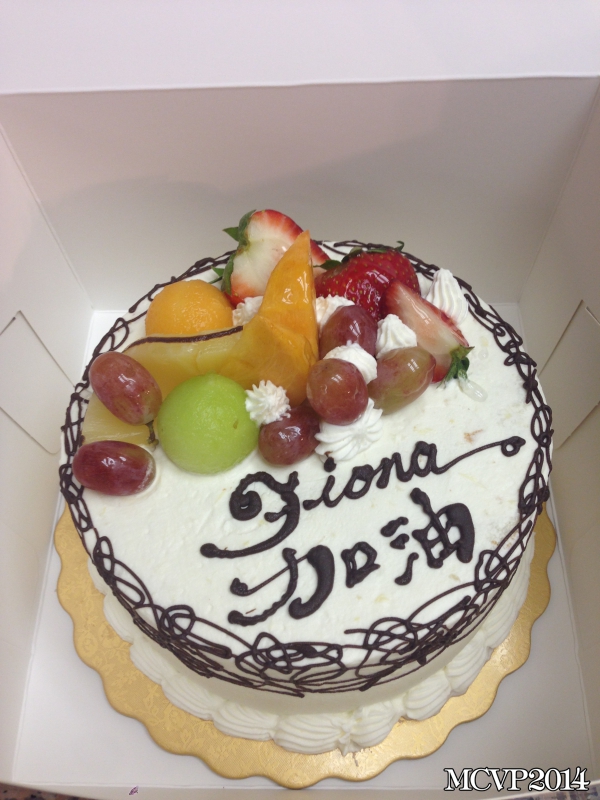 是爸爸特別幫我買的榴槤蛋糕!是我最喜歡的....我見到這個蛋糕真係好感動. 爸爸知道我為今次個比賽感受到一點壓力. 因為自己從此而來都沒有嘗試過面對那麼多的挑戰, 例如面對傳媒,鏡頭, 拍宣傳片等等,所以一時感到有一點overwhelmed.爸爸從我小時候都很疼我, 常常都為我打算,希望可以保護到我. 他也知道我從小時候最喜歡是吃東西. 所以他見到我那麼緊張的狀態,就立刻買了這個蛋糕,希望可以令我開心同放鬆一點.我見到這個蛋糕時,見到"加油"兩個字, 完全覺得自己真係好幸福. 無論發生什麼事都有爸爸媽媽做我的後盾!有那麼堅定不移的力量,還有什麼好怕? 什麼好緊張?
爸爸,我會努力吧! 不要擔心 :) I love you!
Happy Birthday Kelly Mama!
2014-10-12
Happy Birthday Kelly Ma! Thank you for taking care of us and making sure that we are always prepared to meet our daily challenges and training sessions! We learnt a lot from you during the past few weeks, such as how to take better care of our bodies, how to walk elegantly down the stairs and how to dine like a lady. Thank you for treating us like your own daughters and reminding us of our schedules and upcoming tasks! We would not be so calm and organized without your constant guidance!
To capture Kelly Ma's special day, the girls and I prepared a giant birthday card full of pictures of ourselves and personal messages!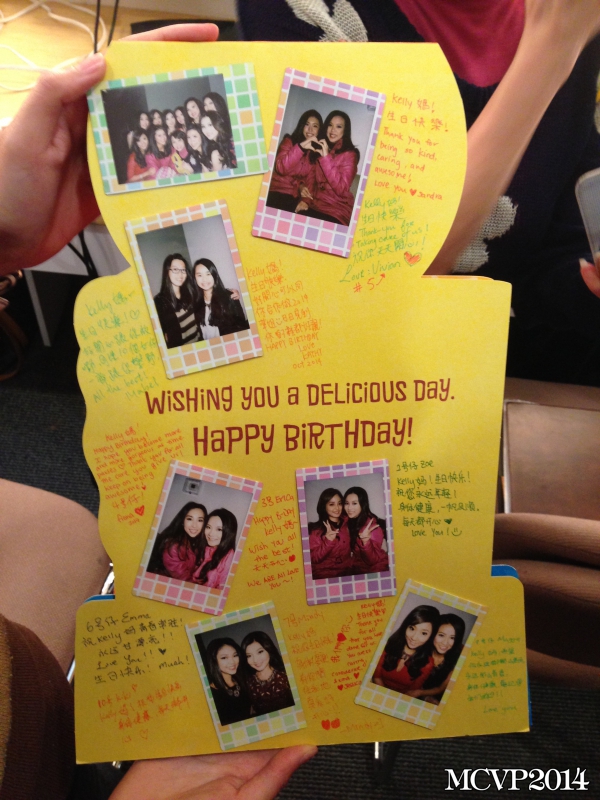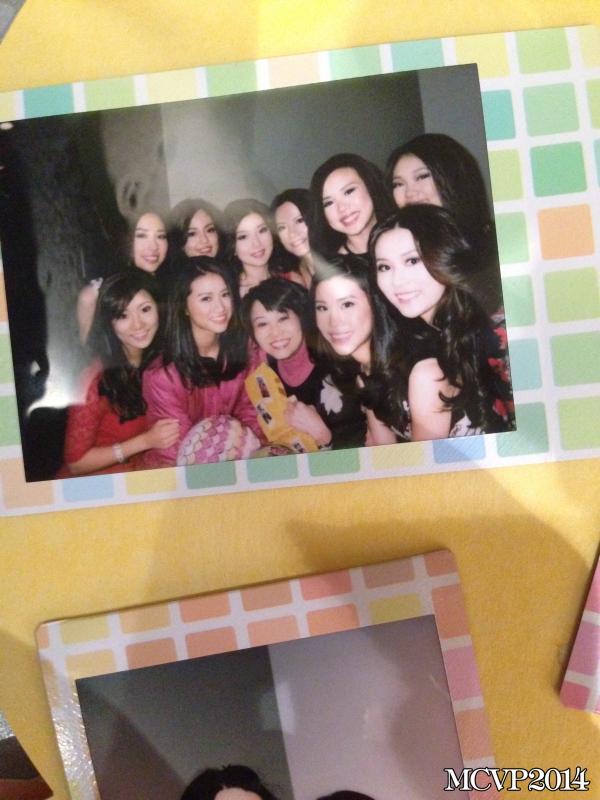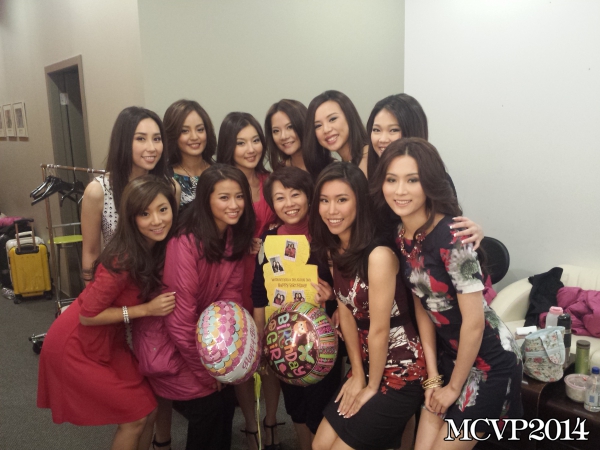 Beautiful No.6 Emma and I ~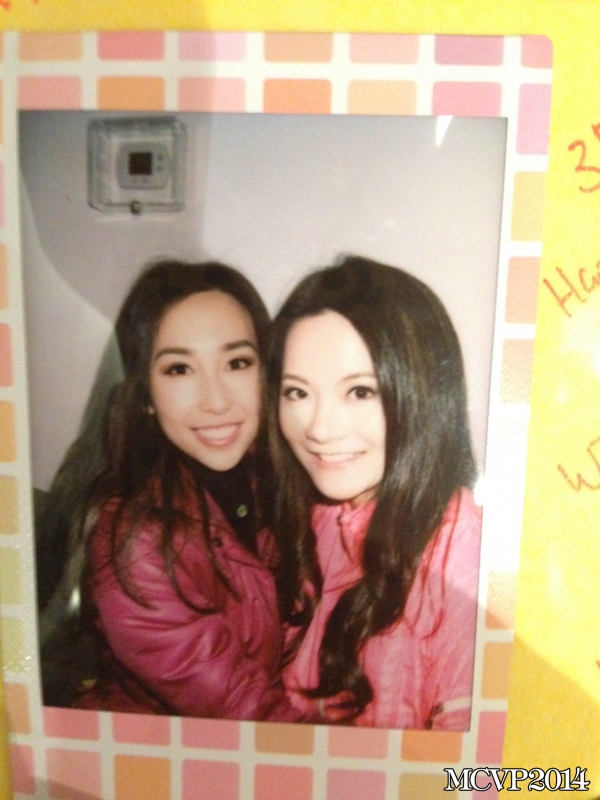 Although we are on a strict diet to prepare our figures for the grand finale, we were each given a small piece of cake to celebrate with Kelly Ma. We were all so ecstatic to taste sweets again! Thank you Kelly Ma for blessing us with a small taste of heaven :)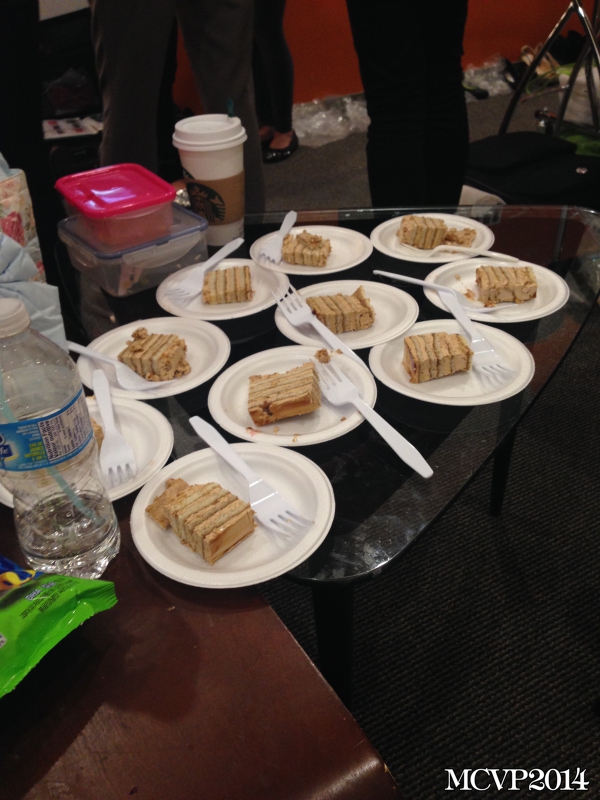 First Stage Training!
2014-10-08
今日第一次stage training! 第一堂已經覺得好好玩,好有挑戰性.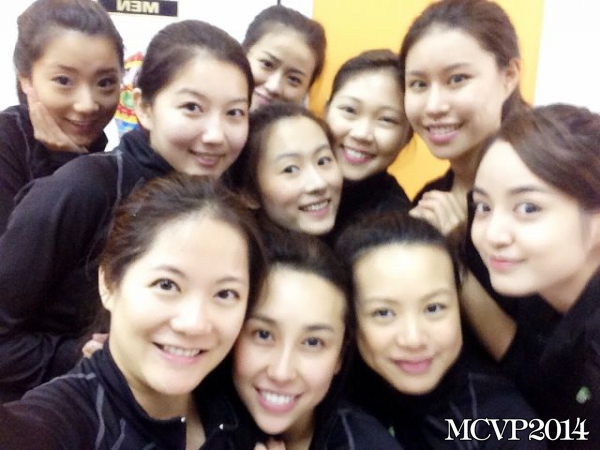 排練的時候, 經常都顧住數拍子, 好驚手腳不協調!老師就問我為什麼樣子那麼緊張, 提點我一定要放鬆! 老師提點之後,我經常都會望住塊鏡子,不要表露驚訝的表情. 放鬆先會跳得好! I seem to look very anxious whenever I concentrate too hard, so I must always remind myself to smile and relax! I can be a bit of a perfectionist sometimes, so its important for me to know that making mistakes is okay and the key is to learn from them.
華姐空姐?娃哈哈
2014-10-02
Check out our uniforms~ Look at all that pink! The luggages are for our essentials and carry on supplies that we need on a daily basis. Don't we look like flight attendants? You won't believe

how many people came up to us asking which airline we worked for.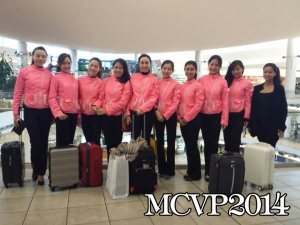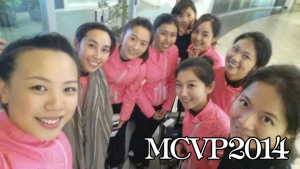 之後,我同 Erica, Emma,Vivian, Sandra, Jessica and Zoe 係時代坊 food court 食午餐!Since I have to watch my diet for the coming 2 and a half months, I packed my own lunch of roasted

chicken and veggies. Good bye sweets of the world for the time being. I shall miss thee!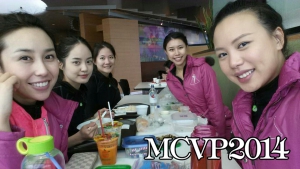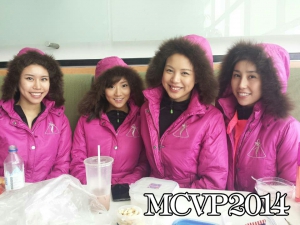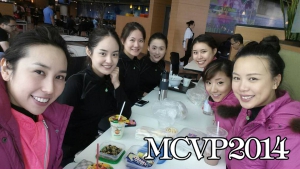 pink eskimos :3 I love our jackets, keeping us warm and fashionable at the same time.
甜美的夢景,START!
2014-09-30
Wow. It's been a week and I still can't believe this is happening. 我是2014溫哥華華裔小姐兢選最後十強之一!Quite unbelievable and I still feel like I'm in a dream. I've been a long time fan of the pageant ever since witnessing Bernice Liu's win in 2000, so it feels quite surreal when I think about actually being a contestant this time around. I've always been a rather shy person, so this is the perfect opportunity for me to step out of my comfort zone and really challenge myself. 面試當日,在 Fairchild TV 登記之後見到很多優秀,漂亮的女孩子!真的讓我眼前一亮。各有各忙著練習自己的 self introduction 或者才蓺舞蹈。當時的環境充滿緊張的氣氛,但是我對自己說 "Fee,Just do your best! Relax and enjoy the moment! You can do it." 我就用這個心態進入面試房。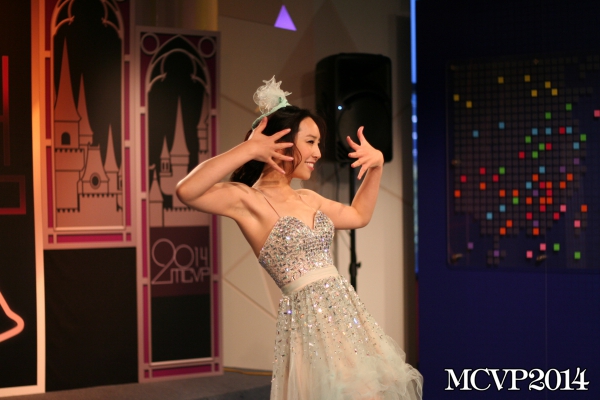 My pop ballet dance routine! :D After the interview, I was extraordinarily calm and collected. I thought to myself "No matter what the outcome is, I did my best! It was an eye-opening experience." That night, I really wasn't expecting to get that phone call. I was actually getting ready to sleep when I heard my phone ring. I remember staring at the unfamiliar number for a short while before answering.
Hello,我係fairchild打過來加。恭喜你入到最後十強"。What an opening line. 這一句,讓我踏入難忘回憶的第一步。
CHEERS! 4号仔Fiona (Fee) 袁煒欣 :3